August 31 Economic Update: Border closures fail to keep out COVID's economic impacts
Credit Simple is part of the illion group of companies. illion has partnered with AlphaBeta to create a fortnightly economic update, and we think you'll find it useful in these strange times.
New data released today has confirmed New South Wales was on the same downward spending trajectory as Victoria in early August, with its lowest spending since early June.
This week's spend data, however, has seen New South Wales recover slightly to re-join other states, but it is still at 3% below pre-crisis levels.
Overall spending in Australia is down 5% on normal levels, largely brought down by the continued strict lockdown in Victoria.
Interestingly, spending impacts are being seen in all states, including even Western Australia, which at 2% below pre-crisis levels, is seeing its lowest spending since the end of June.
Unsurprisingly, given the Stage 4 lockdowns, Victoria continues to decline and spend is now at 22% below normal levels.
It's clear that the Victorian lockdown is having a psychological spending impact across Australia. The impacts are being seen as far away as WA – which shows that even with border closures, you can't keep out the economic impacts of COVID-19.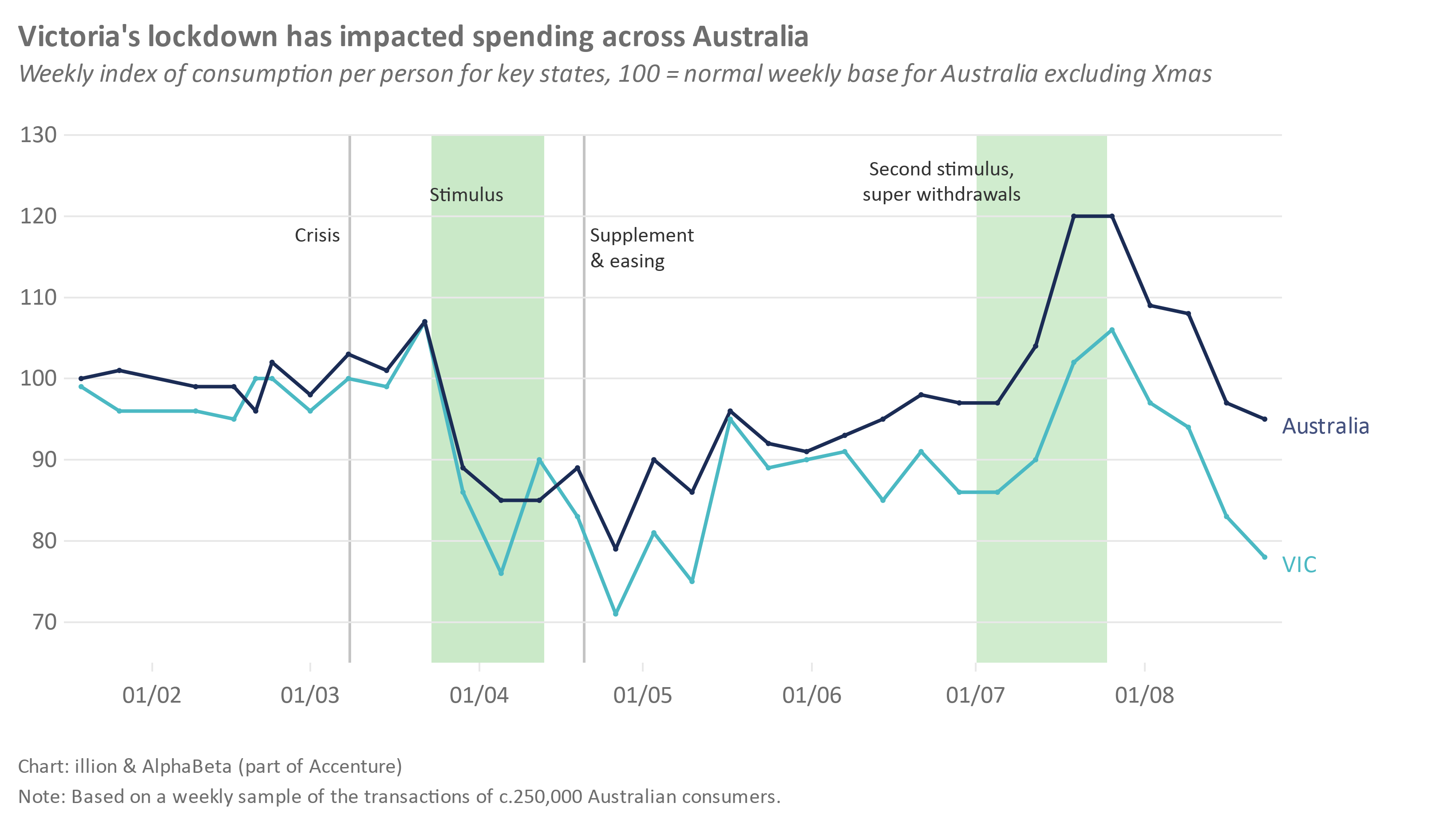 Category spend in New South Wales and Victoria
Cafés have bounced back in NSW to 18% above normal, compared to VIC, where café spending is now down 42%.
Online retail has spiked again in VIC (+21%), compared to NSW (-14%).
Fashion and leisure retail have dropped in VIC (-54%) vs NSW (+25%)
Gyms in NSW are back to pre-crisis levels, whilst spending at gyms in VIC has dropped to 25%.
While health services spending in VIC remains extremely high (+ 100%), NSW is now back to normal levels.
Supermarket spending has also dropped to 12% below normal in both states, after Victoria spiked during early Stage-4 restriction panic buying.
Gyms in New South Wales are a clear winner, now going even stronger than their busiest phases in January. Could this be people wanting to get rid of their COVID kilos and get ready for summer?