August 5 Economic Update: Buy now pay later is the stimulus winner
Credit Simple is part of the illion group of companies. illion has partnered with AlphaBeta to create a fortnightly economic update, and we think you'll find it useful in these strange times.
New data released today has confirmed that spending continues to rise to 15% above pre-crisis levels, driven by the massive cash flow impact of early withdrawal of up to $10,000 in superannuation money and the impact of $750 Stimulus payments.
The new data – covering 20-26 July – has revealed that almost all of the growth in spending above normal levels is still due to Stimulus and Super. When those who were eligible for the Stimulus and received Super were removed from the sample, average spending was 5% above normal levels.
Victoria's spending remains well below other States, around 16% below NSW.
How the Stimulus was spent
Australians receiving the Stimulus payments spent an extra $53 on groceries, compared to consumers with a similar profile that had not yet received the Stimulus. Similarly, the Stimulus caused recipients to spend $66 more on Buy now pay later (BNPL) and $31 more on clothing and other merchandise.
The initial Stimulus spending from April was more focused on essential items. Australians receiving the Stimulus payments in April spent an extra $109 on groceries and an extra $38 on rent and housing costs.
We know the Stimulus has worked. For recipients of the Stimulus the second time around, we can certainly see a shift to more discretionary spending – particularly in the BNPL category.
The one constant has been incredible food delivery figures. Australians have continued to prop up their favourite pubs and restaurants, even in lockdown conditions.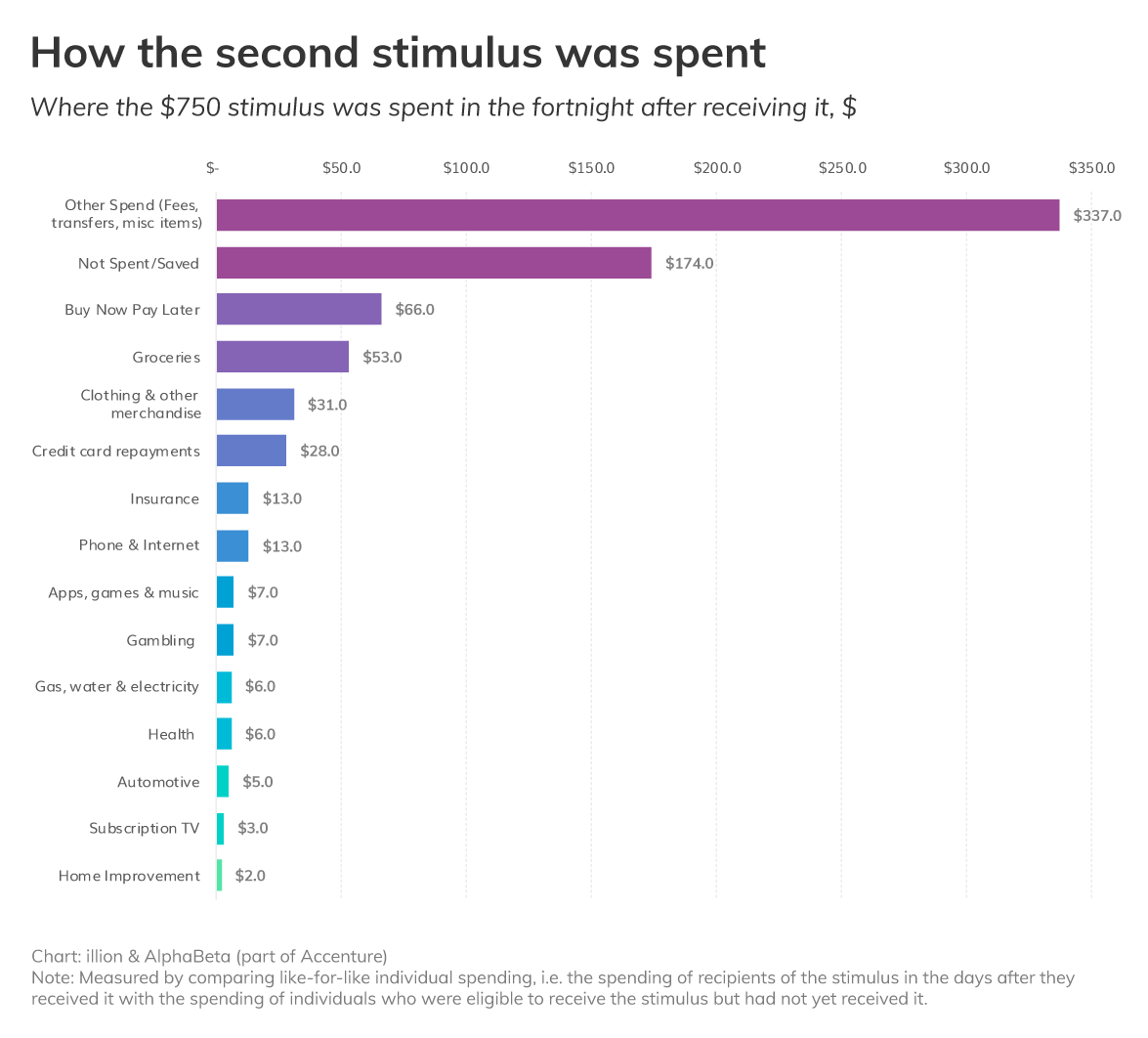 Even though many people in Victoria are back in strict lockdown, a massive drop in spending has been averted up to this point with the new Stimulus payments and early superannuation withdrawals. Whether that remains the case is a key question.
Further high-level summary data is available here.
Find out more
As COVID-19 continues to impact the economy, illion is working with AlphaBeta to provide you with weekly insights on the current state of play. Want to know more? Further data is available here.