December 3 Economic Update: Australia's economic recovery is beginning
Credit Simple is part of the illion group of companies. illion has partnered with AlphaBeta to create a regular economic update, and we think you'll find it useful in these strange times.
New data released today by illion shows Australia's economic recovery is starting to emerge, but with Sydney taking a clear lead over Melbourne.
Sydney's latte line spends up
There has been a dramatic shift in spending habits from the beginning of the COVID-19 pandemic (April) to October.
In April, Sydney's share of spending in lower income Local Government Areas bolstered the economy, with areas such as Penrith increasing spending by 2% and Blacktown increasing spending by 8%.
Wealthier suburbs, such as Woollahra, saw the largest drop however, with discretionary spend down to 80% below pre-covid levels. Mosman dropped to 77% below pre-pandemic levels.
In the most recent period of LGA data in October, a shift has happened: Sydney's 'latte line', higher income LGAs, have now increased their spending and are driving the recovery.
Mosman's spending regained its mojo in October, with spending 7% above normal levels. Woollahra's spending dropped 81% in April, and is now at 18% below normal levels.
Burwood's spending has also increased dramatically – 59% below normal levels in April and in October soaring to 55% above normal levels.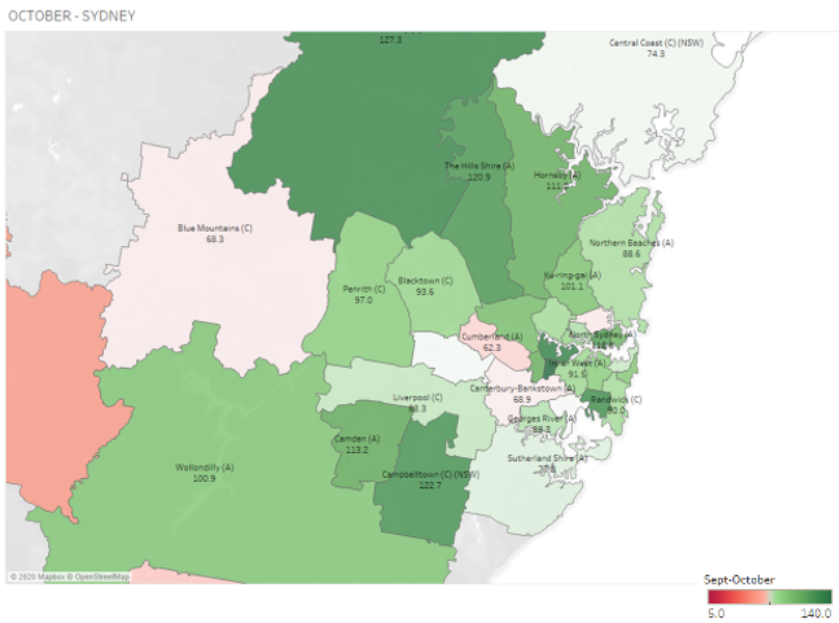 It's a different story in Victoria
While there has been a dramatic shift in spending habits in Sydney from April to October, the difference is less pronounced in Melbourne, as Victoria only emerged from their second lockdown at the end of October.
In the wealthier suburbs in Bayside, spending was down 12% in April, while the City of Stonnington saw a much higher 63% decrease, evidencing how higher income earners tightened the purse strings during COVID. In Bayside, spending is still 10% below normal, with Stonnington currently 61% below the benchmark from November 2019.
For the inner-north City of Yarra, the heart of Melbourne's cultural scene, (suburbs like Fitzroy and Collingwood), spending dropped in April to 77% below normal, but has bounced back remarkably to 4% above November.
Similarly, in the City of Melbourne, spending dropped 68% in April from the November 2019 baseline, but has recovered to 23% below normal. The pattern continues in Moreland (Brunswick and East Brunswick), with spending dropping 56% in April, but recovering to sit on 21% below normal.
It's a very different story along the bay and in Melbourne's leafy east, however, which appear to be still largely struggling from the effects of COVID. Spending was down 2% in April and is now 49% down.
Monash was down 46% below normal in April and remains 62% down. Spending in Kingston was 8% below normal in April and is now 45% below normal. Port Phillip spending was down 41% in April and that trend has continued, with that LGA now 68% down.
Looking beyond Melbourne to the north west, the LGAs of Macedon Ranges and Moorabool recorded drops in spending of 61% and 45% in April, but have both recovered remarkably to be on 9% and 2% above normal.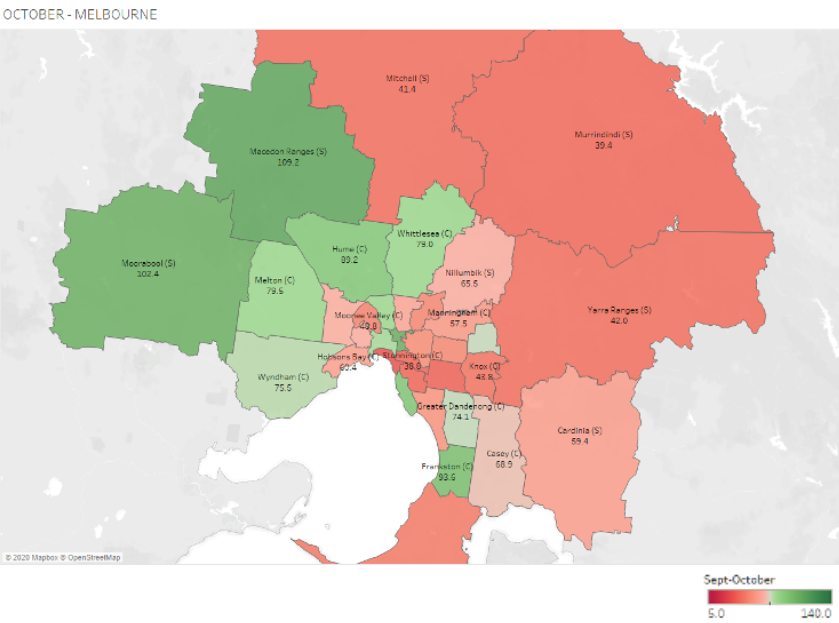 So, what can we learn from these spending patterns?
The spending pattern over the last year is economics 101. There are clear spend trends across suburbs in Sydney and Melbourne. At the peak of the crisis, the most affluent suburbs tightened their belts, but other typically lower to middle-income suburbs emerged as the clear leaders in keeping the economy and our communities going.
We can also see how impactful stimulus payments were in supporting lower income households. Now, with our borders closed, higher income people have realised that they have managed to save a significant amount, they're not going on their overseas holidays and they are ready to spend up.
As Victorians emerge from their harsh lockdown just in time for the holidays, we can expect to see a lot more money flowing through the economy now too, which is good news for everyone.
Find out more
As COVID-19 continues to impact the economy, illion is working with AlphaBeta to provide you with regular insights on the current state of play. Want to know more? Further data is available here.