June 15 Economic Update: Men spend up big on tax-free Super
Credit Simple is part of the illion group of companies. illion has partnered with AlphaBeta to create a weekly economic update, and we think you'll find it useful in these strange times.
New data released today by illion and AlphaBeta, part of Accenture, shows that women who accessed early Super focused their spending on essential items for themselves and their families, while men spent it on discretionary items, including a huge gambling binge.
Women spent nearly one-fifth more than men on food, with supermarket spending more than doubling following access to Super. Clothing was another category where women outspent men, spending nearly one-fifth more. Women also outspent men on household utility bills by 25%, but spent twice as much as men on personal care, including hair and beauty.
Men outspent women on discretionary items, including a significant increase on gambling spend (93% higher than women). In fact, men spent an extra $290 a fortnight on gambling (coming off a base of $56 at pre-COVID levels). Men also led in the categories of entertainment and automotive spend.
Interestingly, almost 15% of the way Super money was spent was on debt repayments, including Buy Now Pay Later bills.
Early Super used to increase spending
The high levels of discretionary spending from people who accessed their superannuation early further demonstrates that this money was used to increase spending – as opposed to being the lifeline for which it was intended.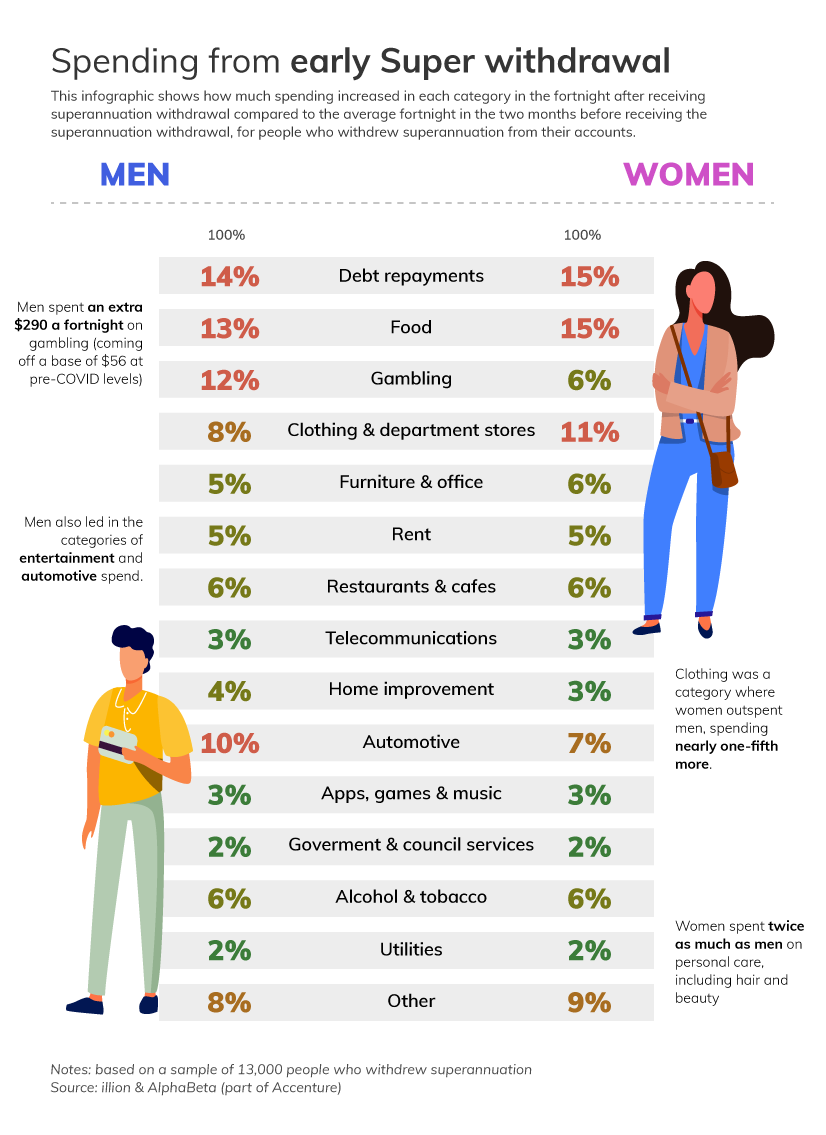 While this spending would have certainly helped the economy – in similar ways to JobKeeper and JobSeeker – there will be heftier prices to pay in retirement with the early withdrawal of Super.
Looking at some of these categories, and the significant spend on discretionary items, it is hoped that certain measures would be put in place before the next release of early Super on 1 July.
More than half of the early superannuation spending was on discretionary items. Each dollar in super is worth up to ten times the value now at retirement age.
Find out more
As COVID-19 continues to impact the economy, illion is working with AlphaBeta to provide you with weekly insights on the current state of play. Want to know more? Further data is available here.