May 6 Economic Update: Cash taking a back seat to Buy Now Pay Later
Credit Simple is part of the illion group of companies. illion has partnered with AlphaBeta, to create a weekly economic update, and we think you'll find it useful in these strange times.
In this week's edition of our economic update, we're noticing that people are tightening their purse strings, but not always in the way you'd expect.
Lots of us are still spending, but we're opting to defer the payments until the future. So while cash may not still be king, cashflow sure is.
New real time data: Buy Now Pay Later is at Christmas levels
In our latest economic update in partnership with AlphaBeta (part of Accenture), we see that Buy Now Pay Later (BNPL) as a form of payment is being used by Australian consumers at even higher levels than during the Christmas period.
This is due to consumers looking to defer payments and hang on to their money longer.
Looking at data for the period November 2019 to April 2020, we can see there has been a marked channel shift to online, where BNPL is a popular payment method. The shuttering of traditional bricks and mortar stores has seen many more people exploring online shopping and new digital payment methods.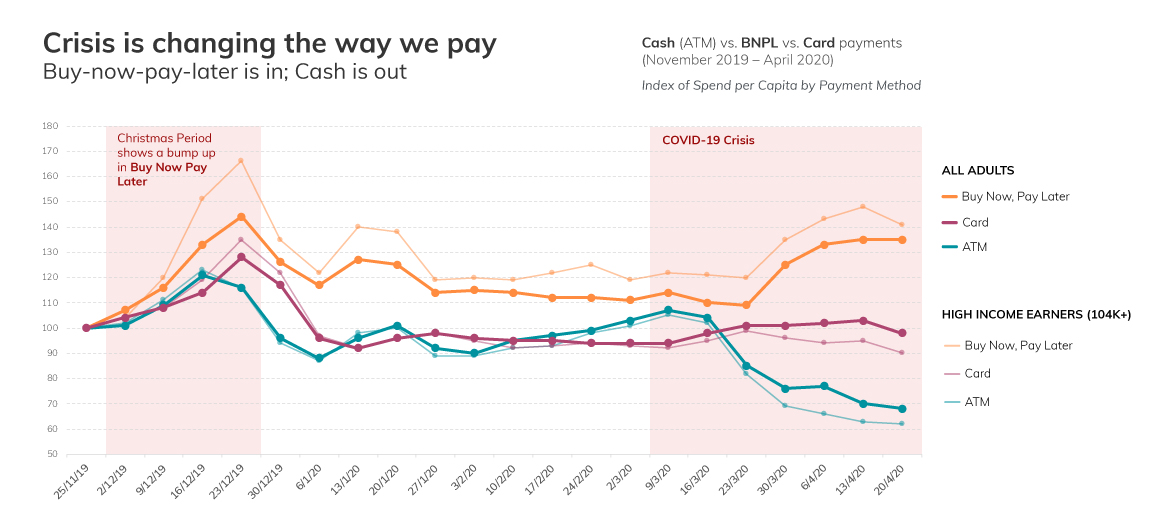 Cash is no longer king
It appears that cash is no longer king, with cash spend, as represented by ATM withdrawals, dropping 12% from November levels across all income brackets.
Interestingly, it's the higher income earners who were the biggest adopters of BNPL, with a significant 63% increase in uptake of the payment method.

Lower income earners maintained a steady threshold of BNPL, with an increase in uptake to 31% of November levels.
According to AfterPay, the top categories for BNPL were:

Consumer purse strings are tightening
With BNPL spending at Christmas levels, we are also seeing a tightening of the consumer purse strings. Consumer purchasing power is coming now from BNPL options, which allows consumers to pay over a period of time, while retaining cashflow.
This type of behaviour is certainly a new way of purchasing which looks set to remain steady after this immediate crisis. With higher income earners also embracing Buy Now Pay Later platforms with significant uptake, we are seeing an increase in a new consumer bracket.
Find out more
Want to know more? Further data is available here.