May 11 Economic Update: Twilight economy emerges as spending gets a nudge
Credit Simple is part of the illion group of companies. illion has partnered with AlphaBeta to create a weekly economic update, and we think you'll find it useful in these strange times.
After the dismal spending patterns that emerged in last week's economic update, the Australian economy needed some good news. Luckily we got it – in the form of a 13% increase in spending. We're still 7% away from pre-COVID spending levels but at least we can see that people are itching to see things return to normal.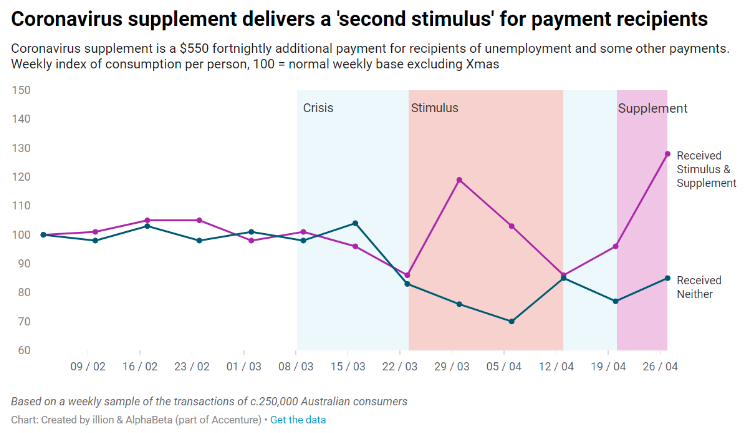 Looking at the period 26 April – 3 May we can see the spending lift was caused by two factors:
The Coronavirus Supplement ($550 per week for many payment recipients) landed in bank accounts; and
Restrictions also began to ease across the country in varying degrees, with flickers of normal life causing a big rise in supermarket spending, fashion and leisure and mobility.
Some resilience returns to the economy
This bounce in spending is encouraging in terms of seeing some resiliency in the economy.
The Government has seen in real time how impactful the Supplement has been, and it's having a bigger impact on spending than the stimulus. The stimulus was a larger payment of $750, but it was a one-off; while the Supplement of $550 is ongoing.
For those who received both the stimulus and the Supplement, their spending was significantly higher than for those who received neither.
The beginning of the easing of lockdown has also seen some 'normality' start to creep into spending patterns. The last week saw the beginning of the easing of restrictions on movement and socializing in a few states or territories as some people were able to entertain up to two adults (as well as children) in their homes.
This means we can now start to sketch out what our twilight economy looks like and which businesses will survive and thrive coming out of the lockdown.
Spending up as confidence starts to return
As people again began to entertain at home, there was a jump in supermarket spending, which lifted 8% from last week and alcohol which jumped 15%.
Health spending received a boost, up 9% from last week, as people started to go back to appointments, including physios and allied health.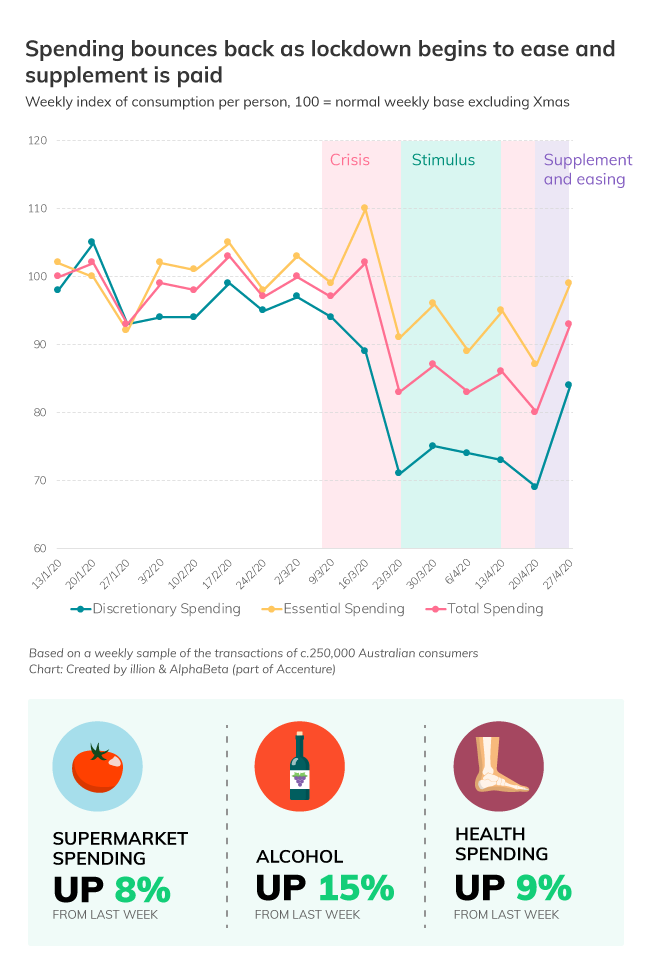 There was an increase in mobility as people started to begin to return to normal life. Taxis were up 6% and road tolls up 9%.
The Supplement also boosted some categories: department stores performed well; gambling was up; and food delivery continued to rise.
The easing of restrictions has also given Australian consumers confidence to hit the shops again.
As we see restrictions further easing over the next few weeks, we believe there will be greater spending across discretionary and entertainment categories. Higher income people will also start to open their wallets for more discretionary items – something they have not been doing over the last few weeks.
Find out more
Want to know more? Further data is available here.